The last few days I've been using my Ubuntu desktop 10.04 more and more, which I'm running as a VirtualBox appliance on my Macbook Pro inside of Mac OS X.
Learning the ropes, I've stumbled a few times. Luckily, I've pretty much figured out how to do everything I needed.
I wanted to upgrade from Firefox 3.6.15 which is what was the latest version of Firefox as part of Ubuntu's Software Center.
I had run Update Manager before starting and the latest packaged version was Firefox 3.6.15.
To upgrade from 3.6.15 to 4.0, you need to do the following:
Open up the Ubuntu Software Center then Edit > Software Sources and click the 'Other Software' tab. Press 'Add' and then paste ppa:mozillateam/firefox-stable into the relevant field.
After you click add, you should see the dialog with all of the available software sources as in the diagram below.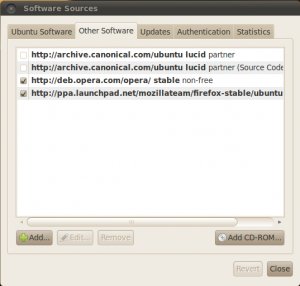 After adding the PPA you will be prompted to update your sources. Once this completes, you can go to System > Administration > Update Manager to perform an upgrade.
I found that a couple of my add-ons were not compatible, but Firefox 4.0 only just came out yesterday, so I'll give it some time.
One Response to "Upgrading Firefox 3.6.x to 4.0 on Ubuntu Desktop 10.04"