Today, I built a new server on a machine with Virtual PC. I'm testing an R6.5.6 to R7 upgrade plan.
This was the first time that I have used Virtual PC. It seemed to work pretty well, except that the mouse scrolling was horribly slow compared to it's host machine. Perhaps, I should be access the virtual PC with RDP instead of it's correlating host.
I got the server installed, setup, and put the finishing touches on the servers document. I tried to access the server with a client, no problem, then the admin client. Suddenly, my admin client locks up.
I could see the show server command display on the server console through RDP, so what's the problem?
After a double check that I had the network settings and port tab of the server document correct, I began to dig a little further.
I then noticed the line on the server console that says:
> show server >C:\Documents and Settings\Default User\notes071343\rem59091.con
This shows up all the time when a admin uses the admin client to access the server. However, I don't usually noticed the temp files and the notes071343 directory being created in the C:\Documents and Settings\Default User.
I went to the system environment variables and noticed that these didn't exist.
TEMP=C:\TEMP
TMP=C:\TEMP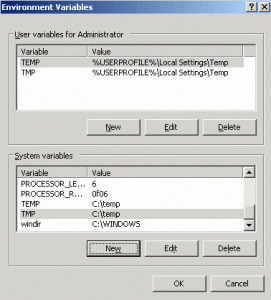 Go to My coputer => Properties=> Environment Variables => System Variables
Add the two entries to the System Variables section at the bottom section.
After I created those and restarted the server everything was back to normal. I'm not sure why these weren't present, but just be aware if installing on a Virtual machine.