A few months ago, we upgraded all of our Brazilian users to Notes 7.0.3. After we did so, the automated messages generated by their help desk ticket system stopped displaying Portuguese accented characters properly.
When accessing the same message through DWA, the message and accented characters showed up correctly.
We generated a PMR with IBM, who told us to right click within the message, and choose Encoding\Other\Unicode (Auto-Detect) which seemed to fix the isssue.
It appears that the message that is generated by the help desk system is received by Domino via SMTP and when the message is delivered the MIME type is unknown. So this fixes the problem one a one by one basis, but how do you fix it so that the default Encoding is Unicode (Auto-Detect) and/or UTF-8? Read the rest of this entry »
I saw this on passport advantage today. Unfortunately, I was looking for an older version.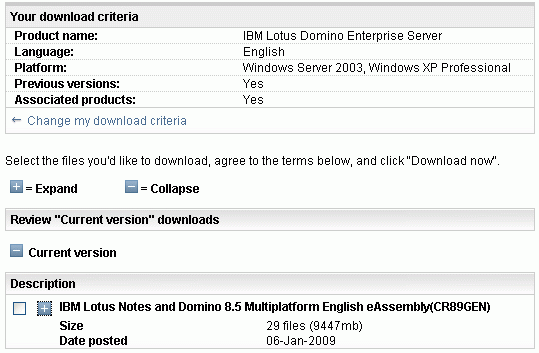 This was posted in the Lotus Society of Hong Kong newsletter this week.
I found it quite useful.
I just read this blog post by Mikkel Heisterberg on Sidebar application in R8.5.
I had to link back to it here because it's just such a cool article, and there are links to some killer sidebar applications.
When I first started using R8, I started to play around with a couple of Widgets and the sidebar. I instantly realized what the real potential of R8 could be. There are so many tasks that can be added to this location to significantly cut down on the time typically needed to perform that task or gather that particular bit of information (depending on whatever the widget/application does).
In Mikkel's article above, he lists several sidebar applications. On his list, I found 3 that sound fantastic, written by Jeff Gilfelt.
They are as follows:
Formul8 for IBM Lotus Notes 8
Secret Agent for IBM Lotus Notes 8
SideLog for IBM Lotus Notes 8
Last night, one of our admins accidentally replicated the R8 pilot server address book to a R6.5.6 production server address book through his notes client.
This royally screwed up the 6.5.6 address book. Some of the servers rebooted themselves, mail wouldn't route, dc.nsf appeared to be out of order, etc.
We fixed it by manually replacing the address books on the bad servers at the file system level with a good copy from another server that hadn't replicated the bad design yet. Another option to keep open is to keep a local replica of the NAB on all of your admin clients, and set your admin clients only to replicate with the server ever hour, 2 hours, or 4 hours. This way, the local replica copy of the NAB on the admin clients is pretty much up to date, but if something happens, it gives you a bit a time to discover that something is wrong. It's not a perfect solution, but good (possible) option to have in place when you notice that something is very very wrong. A scenario might be that you discover your NAB is bad, and your local admin client hadn't replicated for 3 hours and does not have the bad design. This can save you. Read the rest of this entry »